Gutters, Downspouts & Leaf Guard Covers In Elgin, IL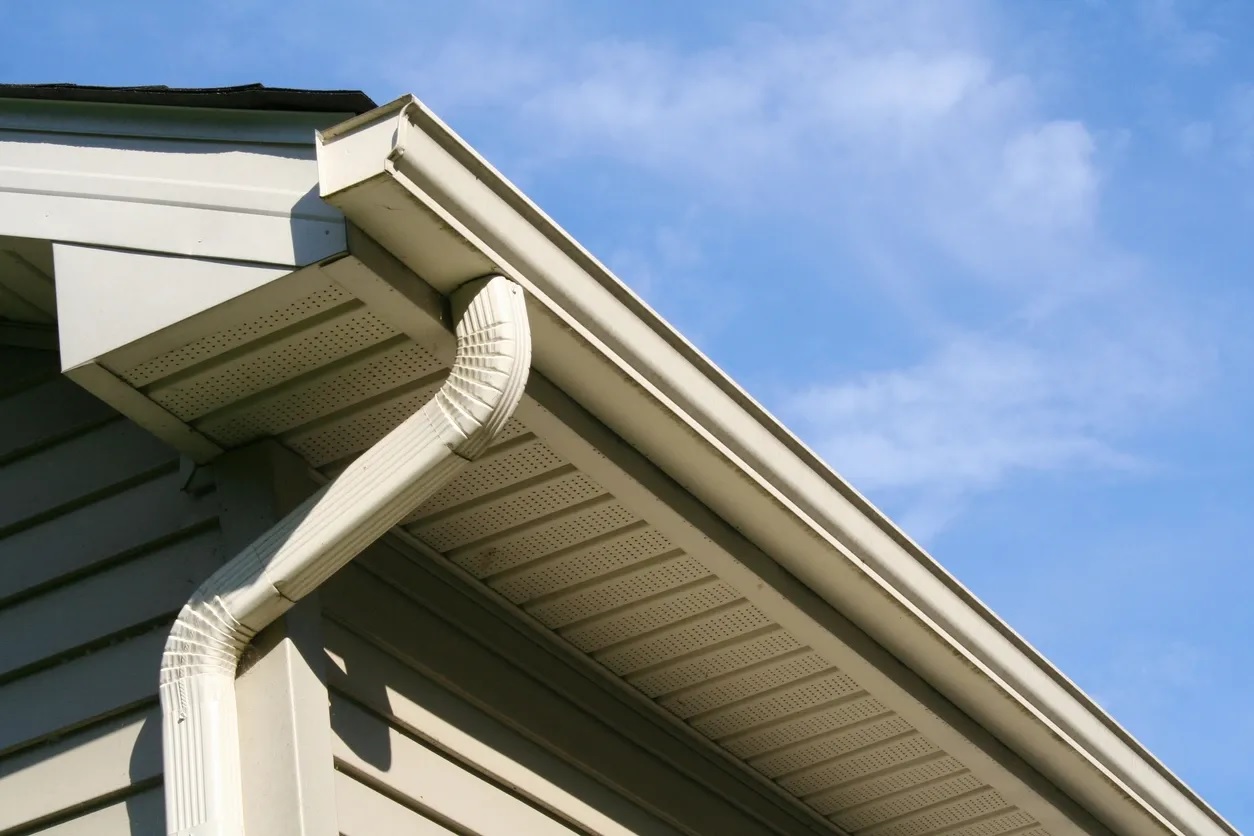 Fox Valley Gutter Cap and Insulation are the ones to call for gutters, downspouts & leaf guard covers in Elgin, IL. By adding gutter systems to your home it adds value and helps protect the outside of your home from water damage. Leaf protection will keep debris out of your gutters and keep them free-flowing.
Contact the experts today for more information, and get your free estimate today!
The purpose of gutter and downspout systems is to collect rainwater from the roof and direct it away from the building foundation by means of downspout extensions, splash blocks, or underground drain lines.
An improperly functioning gutter and leader system can contribute to water and ice backing up against fascias and under roof shingles, can damage soffits, and can discolor or deteriorate siding materials. Faulty gutters and leaders can also lead to soil erosion adjacent to buildings and serious water and foundation displacement problems in basements and crawl spaces. Other signs of a faulty system are rotted wood, cracked and blistering paint, worn mortar joints, and settling cracks in patios, walkways and driveways.
Gutters should be sloped a minimum of 1 inch for every 40 feet of run. Standing water may indicate a sagging or incorrectly pitched gutter.
Remove leaves, acorns, sticks and other debris from gutters, so melting snow and ice can flow freely. This can prevent ice damming - a condition where water is unable to properly drain through the gutters and instead seeps into the house causing water to drip from the ceiling and walls. You may also consider installing gutter screens. Screens prevent debris from entering the gutter. When cleaning your gutters, make sure to "flush out" the downspouts with a hose to ensure there are no obstructions inside the downspout.
Gutters are often sized according to the roof area they drain.
5" K-style gutters are the residential industry's standard.
6" K-style gutters are used for larger roofs.
Half Round gutters are typically sized 1 inch wider than K-style to provide the equivalent capacity.
Wider gutters may be required for certain hard surface roofing materials, such as slate and tile, or used on steeply-pitched roofs, to prevent water from shooting over the gutter. Gutters should be positioned tight against roofing materials and the fascia.
Downspout diameters are sized according to the roof area they drain. A rule of thumb used in the industry is that a 2x3 inch downspout will suffice for a 600 sq. ft. of roof, a 3x4 inch downspout for 1,200 sq. ft. of roof, and 4x5 inch downspout for 2000 sq. ft. of roof. The typical downspout size for a 5" K-style gutter is 2x3 inches, but 3x4 inches is preferable because it is less likely to become clogged and is easier to clean out.
Half-round gutters were the traditional gutter style on homes built before 1950 and remain a popular choice on historic renovation projects, traditional renovations, and new upscale custom housing.
The simple lines of half-round gutters compliment heavily textured materials such as slate, shakes, and tiles. Where crown moldings exist in lieu of fascias, half-round gutters can be easily hung from the roof. Where fascia exist, fascia brackets may also be used.
Advantages: Appropriate for both historic restoration and new construction, both contemporary and traditional. Attractive and durable.
Disadvantages: Higher initial material and labor cost than some other gutter products. Not generally used on non-custom housing.
Frost King has a line of gutter heaters to keep your gutters clear of ice and snow. Our gutter products can keep your gutters functioning at their best for years.